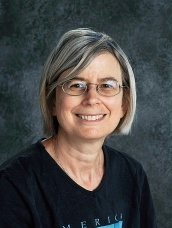 Debbie Hadas moved to Minnesota in 1979 with a teaching license in Latin and French. She started to substitute teach in the St. Paul schools, and soon found her true calling: teaching ESL. In 1981 she joined the almost-brand new MinneTESOL, and never looked back!
From 1982 to 1984, Debbie was a Peace Corps Volunteer in Senegal, where she worked as a resource person for local English teachers. After returning home, she earned her MAT in ESL at the School for International Training in Brattleboro, Vermont.
Debbie has taught at Apple Valley High School since 1987, and continues to love helping her students become better readers, more fluent writers, and able to take charge of their lives.
MinneTESOL has long been central in her professional life. Debbie has presented numerous times, chaired and co-chaired the secondary interest group, worked on the proposal committee, stamped hands at the State Fair, and had the thrill of representing MInneTESOL at the 2010 TESOL Advocacy Day in Washington D.C. Through MinneTESOL, Debbie has had the chance to work with, and learn from, some of Minnesota's finest educators.
Teaching ELL in the public schools has allowed Debbie to indulge her love of languages and her passion for social justice. Collaboration with wonderful colleagues, interaction with fascinating students, and at least one good laugh a day – they all add up to a great career!
Click here to visit archived "Spotlights on Members".