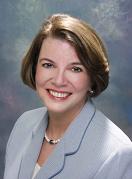 Mary Lou McCloskey, 2002-2003 President of Teachers of English to Speakers of Other Languages (TESOL), is Director of Teacher Education and Curriculum Development for Educo in Atlanta, Georgia, USA. She received her PhD in educational leadership at Georgia State University, following her Master's Degree in early childhood education at Syracuse University and her BS in Philosophy at Le Moyne College, Syracuse, New York.
Active as a staff development specialist, consultant, writer, curriculum developer, and researcher in the area of English for school-age speakers of other languages, she has worked with teachers, teacher educators, and departments and ministries of education on five continents and in 34 of the United States.
She was awarded the 1999 Moss Chair of Excellence in English at the University of Memphis, the Le Moyne College Ignatian Award for Professional Achievement (2004), The Heinle Lifetime Achievement Award (2004), the TESOL D. Scott Enright Service Award (2001), the Georgia TESOL Professional Service Award (1996), and the Georgia State University Dissertation Award (1982).
She has authored and co-authored professional texts, including Integrating English with Scott Enright (Addison-Wesley) and programs for learners of English, including On Our Way to English (Rigby), Visions: Language, Literature, Content (Heinle) Voices in Literature (Heinle), Making Connections (Heinle) and Teaching Language, Literature and Culture (Addison-Wesley), as well as many articles. She was co-editor of Spotlight on Primary English Education in Egypt, a professional text for supervisors and teacher educators of primary teachers of English. She co-authored the English Language Guide for the McDougal-Littell Social Studies program and is a consulting author for the McDougal-Littell Language Arts program under development.
Dr. McCloskey worked for four years as consultant to the Integrated English Language Program II (IELP-II) in several projects including Spotlight on Primary Education Resources (SPEER), and Standards in English for Pre-Service (STEPS), a project to develop teacher education standards for English teachers in Egypt. She has served as an Academic Specialist for the US Department of State in Argentina, Mexico, Venezuela, Morocco, Mozambique, Egypt, South Africa, and Costa Rica.
She served on the TESOL Task Force to develop TESOL/NCTE Teacher Standards and worked with Egyptian Educators to develop EFL Pre-Service English Teacher Standards for in that country. For the past three summers, Dr. McCloskey has worked as a teacher educator in the Teaching Tolerance through English program conducted for middle school teachers and learners from countries throughout Central Europe. She has also consulted on curriculum development for the FugeesFamily in Atlanta, Georgia, and worked with the Fugees Literacy Boot Camp. Her current writing project is an anthology of contemporary literature from the US for teens learning English as a foreign language worldwide.
Dr. McCloskey considers her most important credential, however, her years of teaching experience with students from many cultural and linguistic backgrounds in levels from preschool through university.