MELEd 2020 Registration Is Open!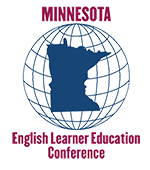 The MELEd conference will take place in a virtual format on Friday, November 20, and Saturday November 21, 2020. Registration is $50 for MinneTESOL members and $35 for conference presenters, paraprofessionals, and retirees. Registration for the 2020 MELEd conference is available here.
Our two keynote speakers this year are Mandy Manning and Karen E. Johnson. 

On Friday, November 20 at 5:00 pm CST, Mandy Manning will present a 45-minute keynote address "Our Paramount Duty: Language as a Vehicle for Connection and Belonging," followed by a 15-minute Q & A session. 
Manning is the 2018 National Teacher of the Year. 

On Saturday, November 21 at 9:00 am CST, Dr. Karen E. Johnson will present a 60-minute keynote titled  "Praxis-Oriented Pedagogy and the Development of L2 Novice Teacher Expertise,"  in which she will trace the developmental trajectory of three novice ESL teachers over two years as they move through three praxis-oriented pedagogy courses.
Johnson is Kirby Professor of Language Learning and Applied Linguistics at The Pennsylvania State University. 
For a complete description of both keynote presentations, go to our Fall Conference Keynote Speakers page. 
Note: The EL Coordinators Meeting on Thursday, November 19 will also have virtual format.
For updates about this year's conference, check the Conference web page. 
Get Involved with the MinneTESOL Executive Board
Do you want to get involved with English language teaching on a deeper level, increase your own professional development, and meet colleagues from around the state? If so, please consider running for the MinneTESOL Executive Board. This Fall we have vacancies on the MinneTESOL Executive Board. All positions have a 2- or 3- year term. For more information about the Board positions, see our Executive Board page.
Note: All Board members are required to attend four annual meetings in January, May, September, and after the annual conference. Each of the following positions typically carries the perk of funding to attend the national TESOL conference once per term.
The Board positions will be elected by the MinneTESOL members during the time of the MELEd Conference in November. If you are interested in running for a Board position, please contact Leah at lkronick@umn.edu.
Hamline University Expands ABE Licensure Offerings
Hamline University in St. Paul has new Adult Basic Education (ABE) Licensure offerings. You can find all the information you need at this link for both the:
Initial ABE License

through the MAT Program for those who do not hold any state teaching credentials.

Additional ABE License

for those who already hold an initial license in another area.
For further information, you can read the overview that appeared in the MN ABE PD Connect Newsletter this fall. 
MinneTESOL Journal Call for Papers

Now is your chance to publish an article in the upcoming MinneTESOL Journal, a practitioner academic online journal. See Writing for the MinneTESOL Journal for more information. 
Journal submissions are accepted on a rolling basis.
Email the senior editors to learn more about submitting work: journal@minnetesol.org 
Get to know the Executive Board
Each newsletter will profile a different Executive Board or MinneTESOL member.
Name: Brian Cashman 
Position at MinneTESOL: Secretary
Teaching Context: I serve as the Coordinator of Alternative Programs for the Goodhue County Education District. Based in Red Wing, I support our Area Learning Center programs, our English Learner program, and I support Career and Technical Education (CTE) in Southeast Minnesota via coordinating the federal Perkins grant. We have a very talented and dedicated English Learner teaching team and I appreciate being able to work with them.
Current Project: Continuing to work to strengthen our translation and interpretation program in Goodhue County.
MinneTESOL Opposes Department of Homeland Security Proposed Rule to Limit Int'l Student Stays
On October 16, 2020, MinneTESOL sent a letter to the Department of Homeland Security opposing its proposed rule to end duration of status of international students and exchange visitors to the USA, which would impose a lifetime maximum of 2 years for formal study in language programs on international students and visiting scholars. The letter, signed by MinneTESOL president Darren LaScotte and Vice-President Leah Kronick, is available here. 
Did you know?
Past MinneTESOL newsletters can be found on our website, at http://minnetesol.org/minnetesol-newsletters
We want to hear from you
We are always looking for information to share from our members. Please send newsletter submissions to admin@minnetesol.org.