How to Access the Virtual Conference
All virtual content in the EL Coordinator and MELEd Conference are accessed through Sched, which is available as an app for your phone or tablet and in your browser.   Sessions become available at their scheduled time. 
You can access the features in Sched once you have registered for the conference, which is done here. MinneTESOL – Events
To access the EL Coordinator Conference (Thursday): 
Go to the conference site: https://2020elcoordinatorconference.sched.com/
Log in with the email that you used to register for the conference. 
To access the MELEd Conference (Friday-Saturday): 
Go to the conference site: MELEd Conference
Log in with the email that you used to register for the conference. 

If you are having difficulty accessing the site, look in your email for an invitation from notifications@sched.com. The title of the invitation email is You're Invited To MELEd Conference with a link that will give you access to the Online MELEd Conference. As conference attendees, you will need to set your Sched password and view the conference schedule in Sched.
---
MELEd 2020 Is Going Virtual!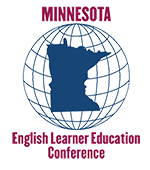 The annual MELED conference will take place November 20-21, 2020, in a virtual format. Click here to see the 2020 MELEd Conference schedule.
The Minnesota English Learner Education (MELEd) Conference is a partnership between MinneTESOL and the Minnesota Department of Education.  It is a merger of the annual MinneTESOL Fall Conference and the Minnesota ESL, Bilingual, and Migrant Education Conference.
We hope to see you there!
Please direct your questions to the conference chair:
Ghaida Shamsan shams040@umn.edu
2019 Conference Archive
Are you looking for presenter materials from 2019 MELEd? Check out our conference materials archive page! Can't find what you're looking for? Try contacting the presenters directly using the presenter directory in the back of the MELEd Conference program.
---
You can now stay up to date with MELEd Conference information via Twitter, Facebook, and Instagram!
    
Do you have a question about the fall conference? Please visit the Conference FAQ page.
Please contact us with any questions: